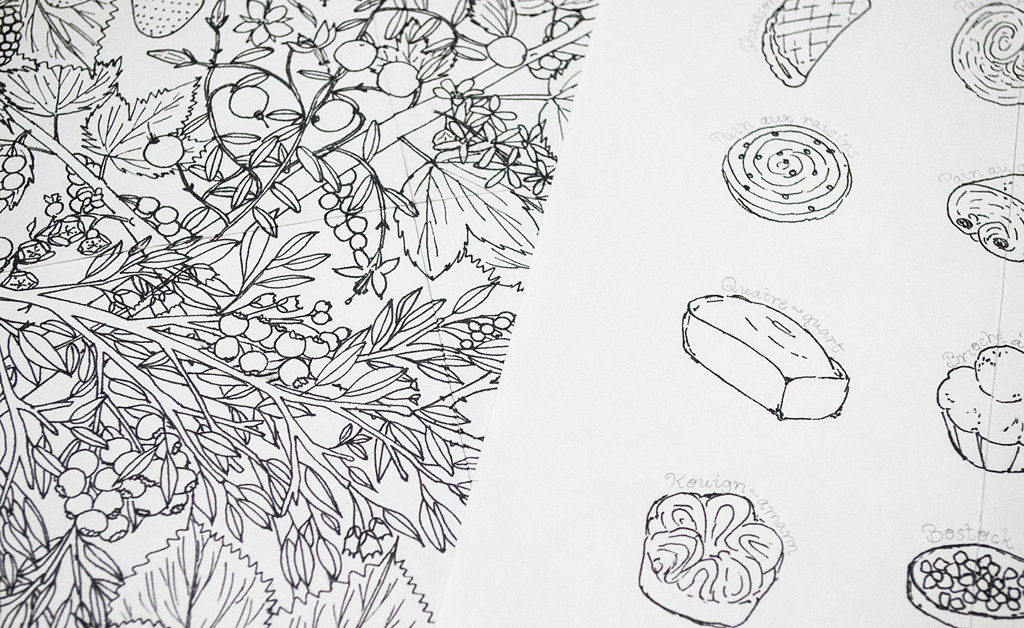 Hi, everyone! I wanted to let people know that I'm not a one-trick pony! Just kidding! Really, though, I know I've been posting a whole bunch of woolly posts. Yes, they're super cute, but I'm pretty sure that all of you are wondering why I haven't been posting any paper or fabric projects. It's a bit of a long story, but I'm still waiting for my shipment of some amazing Copic Markers. Have any of you used these pens? They're magical. They blend beautifully when you use them. But waiting for them? Oh, man. Sadly, the demand is so great that they're always sold out in stores. I've been waiting for two months, and those markers are still on backorder from where I bought them. Sigh. While I wait for those to show up in the post, I've been drawing a lot and brushing up on my calligraphy.
For those of you that know me, I'm also a pastry chef. I love to do all of the creative things that baking and cooking offer, such as, decorating cakes, making sugar flowers, and plating food. However, I also really enjoy applying the same skills onto paper. I've been working on a few detailed sketches of my favorite foods, and once those elusive pens arrive, I'll have something more definite to show you!
Another fun fact: I'm left-handed, so I'm really hoping I'll be able to reach those people (Yes, you 10% of the population! I'm talking to you!) and have some tutorials up soon on left-handed calligraphy. Yay!
For now, you guys are stuck with my fiber friends and a sneak peek of my drawings.
If those markers don't arrive soon, I may just have to make a quilt or something (Psst! I actually am. I'm currently collecting some fabric, so stay tuned for that too!)! I know you all want a change in scenery. It's going to happen. I promise.
***Edit: It's mid September, and I just about gave up on the arrival of those pens; magically, I found them at a local art store and I very quickly bought the pen set!! *Squee!!* I'm busily coloring my drawings now, so stay tuned in for another update!***